Bitcoin, renovations and regional centres - 2018 property trends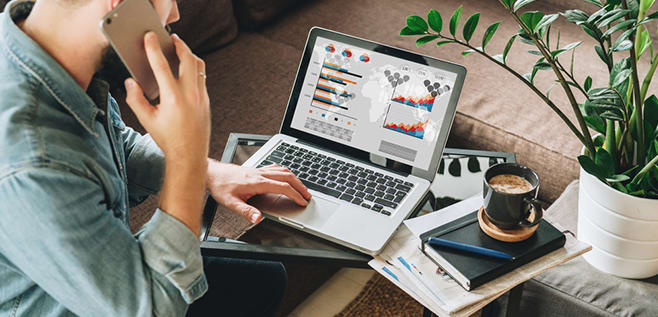 Last year's balance out...
The second half of 2017 heralded a noticeable transition. Investor demand slowed - as a result of higher finance rates - listings increased in the lead up to spring and affordability constraints began to see buyers re-evaluate their situation, budgets, and housing requirements. This has seen a moderation of property price growth during the end of 2017.
So what does this mean for 2018?
One major similarity, from 2017 to 2018, is the performance of the Australian economy. The fundamental drivers of property markets will remain positive and place a floor under any property price declines. We should see interest rates remain on hold due to low inflation, soft retail sales and weak wage growth. Unemployment will remain tight and the larger state economies should continue to perform well, with help from some major infrastructure spending. Importantly for housing markets, population growth is expected to remain strong and will keep tenant and buyer demand in place over the year.

Nationally, 2018 should be a steady, moderate and consistent property market. The past few years have strongly favoured sellers, this will swing back to the middle in 2018 and be favourable for both sellers and buyers.
Favourable for buyers because there should be less competition due to lower levels of investor demand. In addition, there should more choice for all buyer types with more listings on the market.
Favourable for sellers because interest rates are expected to remain steady at the record low of 1.50 per cent. This means mortgages will remain affordable ensuring buyers, that have missed out over the past few years, will still be out in force seeking the right property.
Whilst there is an expectation that the market will be steady at a national level, it's a different story when we drill down to local suburban markets. Each individual state, region, postcode, and suburb will experience this "transition" in a different way. For instance, there are a number of inner-city suburbs in Sydney, Melbourne, and Brisbane that have seen a large uplift in new apartment supply. These areas will be hit hard by the slowdown in investor demand, especially as projects reach completion. In other suburbs, where detached houses dominate, price growth should continue as the pent-up demand from upgraders and downsizers ramps up.
Real estate trends for 2018
---
1. Bitcoin transactions will become more common
The rise in the popularity of cryptocurrencies, around the world, has inevitably reached Australian property markets. LJ Hooker has seen a number of listings in 2017 where sellers have asked for, or accepted, Bitcoin as payment, or part payment, for their property. Despite the ongoing volatility in the price of Bitcoin, there is no doubting that cryptocurrencies are set to play a big part in the global economy into the future. Making it more common for buyers and sellers to transact using digital currencies.
2. More listings less competition from investors
As we move through the start of the year, listing numbers should remain elevated, as owners look to cash in on recent strong price growth. The rise in listings means more choice for all buyers in the market, however, first home buyers should be practically active as investor demand remains soft. One downside to having fewer investors in the market is that rents have the potential to rise, as rental availability falls and population growth continues.
3. Regional to outpace capital cities
The recent surge in capital city property prices have now begun to spread outwards to the surrounding regional centres. Being more affordable makes regional centres more attractive for those looking to downsize, or for those that want to upsize to a large family house without taking on a large mortgage. In addition, the lower cost of housing in regional centres, less supply of new housing and steady population combine to make rental yields higher than in capital cities, which in turn attract investors.
4. Price growth to cause major changes to property markets
In Sydney and Melbourne, some suburbs have seen the median sale price grow by more than 100 per cent over the past five years – The average house price growth over the past five years in Sydney is 71 per cent and Melbourne 59 per cent. This phenomenal price growth is set to shape future decisions made by governments, developers, homeowners, investors, tenants and first home buyers in these markets. Some of these trends have already started to emerge;
The renovation revolution to continue. An impact of price growth is that it comes with an associated rise in stamp duty (in NSW Sydney the cost of stamp duty on a $1 million property is $40,000 while a $1.5 million is $67,000 and $2 million is $97,000). This has seen more owners put the cost of moving into renovating and staying put.
Lower investment returns. The past few years investors, in these capital cities, have purchased for capital gain. However, with the moderation of price growth, the total return (capital gain plus rental income) on these acquisitions will be lower, since rental growth has not kept pace with inflation over this period.
Change in buyer expectations. Price growth has made buyers re-evaluate their budgets and their property requirements and weigh them up against their lifestyle needs. Some buyers are now preferring to buy an apartment or townhouse closer to their preferred location rather than moving away from schools, family and friends to acquire a larger home. The rise in supply and lower cost of these property types across most capital city suburbs has made this possible.