Why now is the time to Auction property in Brisbane
Auctions Proving More Lucrative for Sellers
With soaring buyer demand and a lack of properties for sale in Brisbane, it's clear that it's a sellers' market - no matter what method vendors use to sell their homes. However, auctions have long been held as the best way to maximise the results of a sale, but this has been especially true recently. Given how active the market currently is, auctions are proving to be the more lucrative choice for sellers and the choice we most often recommend to vendors. There are a few reasons why.
Clearance Rates Skyrocketing
Clearance rates have reached record highs across Brisbane in recent weeks which has resulted in significantly higher property prices as eager buyers scramble to purchase homes. In fact, almost three quarters of properties that went to auction in Brisbane during March were successfully sold under the hammer. This is in stark contrast to last year as according to Domain, the auction clearance rate for Saturday the 27th of March alone was 75 per cent compared to 23 per cent during the same time in 2020. This is an astronomical difference and shows just how much auction clearance rates have increased over the past year. Still, this is nothing compared to our agency's recent clearance rates, with our two offices at Mount Gravatt and Sunnybank Hills seeing a 100 per cent clearance rate in the last two weeks with all 17 auction properties being sold under the hammer.
Auctions Resulting in Price Rises
With soaring buyer demand leading to three quarters of auction properties being sold, if not more, it's easy to see why property prices are rising. Record low interest rates and an economy that's already seeing recovery since the pandemic first started has allowed many buyers to enter the market with a surplus of cash and an eagerness to make the most of the favourable conditions. This has meant agents across Brisbane have seen auction attendance rates boom, with feverish bidding leading to a surge in house prices. In fact, recent reports have stated that March saw the biggest Australia-wide property price rises in 32 years, with Brisbane seeing a 2.4 per cent increase during the month. But this is just the beginning. Earlier this year Westpac forecasted that Brisbane house prices were likely to surge by 20 per cent between 2022 and 2023, with heated conditions at auctions likely playing a crucial role in their forecasting.
Why You Should Go to Auction
With skyrocketing clearance rates that have led vendors to reap handsome rewards, it doesn't take much convincing to get homeowners to sell via auction. But of course, it has far more benefits than its high success rate and heftier sale outcomes. For starters, it offers you an unconditional contract with no settlement period to wait out or worry over. It's also quick and easy, with the average auction campaign lasting four weeks and resulting in far less stress for anxious owners.
2021 Auction Success Rate
At LJ Hooker Property Partners, we highly recommend listing your property as an Auction. In 2021, so far, we have sold 95% of all Auctions listed with us.
You can trust our team, to help you and your family move on to the next chapter of your lives, when you list your home for Auction with us.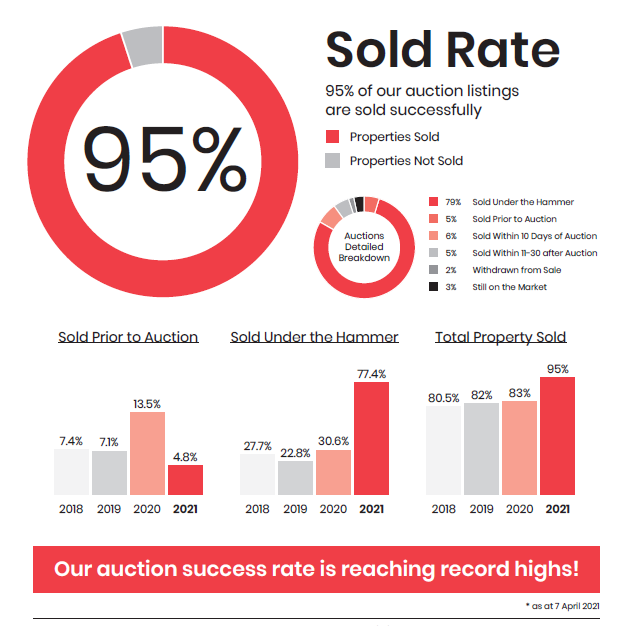 So, why not take the leap and contact us today? We have a reputation for outperforming the rest of Brisbane and can get you the result your property deserves.
---
THINKING OF SELLING?
If you're thinking of selling, then sell with the team that cares about your goals. Click the link below, enter your information and we will contact you to start planning your journey towards a great result!
---